Mixed-use and transit-oriented developments are increasingly popular all across the U.S. According to Axiometrics, mixed-use developments will make up nearly a third of all apartment properties delivered or planned for delivery between 2015 and 2021. Combining live-work-play spaces just makes sense for a large portion of the country—especially in places where urban sprawl and traffic congestion are key concerns.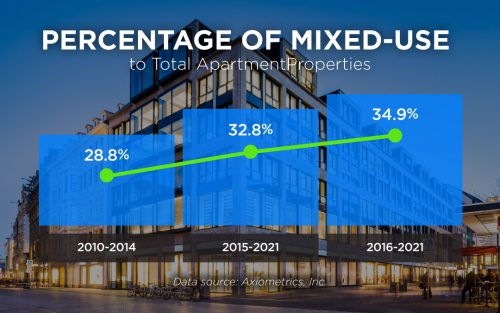 Mixed-use properties usually center around a common theme, gaining cohesion from branding as much as geographic location.
These days, there's another way to gain cohesion among residents, property management staff, retail tenants and the shoppers and restaurant-goers you want to attract. We're talking about mobile apps.
A mobile app platform, like a multi-use development, can be built to serve multiple purposes. Just as your development combines live, work and play, your mobile app can and should address the needs of all stakeholders in one solution.
1) Attract and retain residents by empowering their mobile lifestyle management.
We've said it before and it bears repeating here: Millennials and the upcoming Generation Z run their lives via their omnipresent mobile devices. By providing a comprehensive community mobile app, you can empower residents to manage everything they do around the property in the same way—tracking package deliveries, scheduling amenities, submitting maintenance requests, etc.
The same app can extend outward into the retail space with seamless navigation to nearby restaurants and other points of interest, updates on sales at favorite stores, information about upcoming festivals and concerts, and so on. With a next-generation app, residents can manage everything they want or need to do within their community from a single interface, quickly and conveniently. It's a compelling and useful amenity as well as a competitive differentiator.
2) Streamline resident communications and property management tasks.
A community mobile app with staff dashboard frees up the residential management team to maximize sales and keep everything running smoothly. Built-in communications tools make it easy to get the right messages to the right residents, the way they want to receive them. Contextual data helps uncover usage patterns around property amenities, maintenance performance trends and other valuable operational insights. Package tracking and notifications reduce the front desk workload. All these features and functionality help the property run better, which makes life easier for staff and residents alike.
3) Attract shoppers with wayfinding and personalized engagement.
For many large mixed-use developments with multiple buildings and plazas, physical signage isn't enough to help shoppers and visitors find the stores and amenities they're looking for. A community mobile app with advanced wayfinding and navigation can guide users from wherever they are, right to the closest parking lot—then step-by-step through the development to their chosen store or restaurant. Along the way, personalized push notifications can welcome the app user by name, entice her to stop at another store by offering a special sale or prolong her visit to the retail area by suggesting other venues she might enjoy.
4) Support your retail tenants through partnership programs, promotional communications, etc.
A community mobile app opens up all kinds of partnership opportunities with your retail tenants and nearby businesses. Your app users represent a unique and valuable audience that these retailers want to access. Team up to spotlight various stores and restaurants as part of your ongoing app content. Work together to send promotional push notifications about sales, special events, store or restaurant news and more. You can even develop exclusive rewards and offers just for app users. In this way, your mobile app becomes one more incentive to attract and retain your best tenants—both individual and commercial.
Download our eBook to learn more about how you can use location marketing to better engage users by personalizing their mobile app experience.
5) Save time and money by serving both retail and residential needs with one solution.
By addressing all of the above with a single mobile app platform, you eliminate the cost of purchasing multiple tools—not to mention the friction and inefficiency caused by switching back and forth. And because mobile devices and apps are nearly ubiquitous, you're gaining efficiency by engaging with residents, property staff, shoppers and retail leasing tenants in familiar and convenient ways.
Want to see how our mobile solution can help your multi-use development? Download our case study of Brickell City Centre to learn about how Phunware's solution has met the varied needs of residents, shoppers, office workers, retail partners and property management.
And, as always: please feel free to get in touch! Contact a specialist today at residential@phunware.com.