According to the Internet Advertising Bureau (IAB), brands and agencies are getting very excited about in-game advertising. IAB points to reasons such as mobile devices, new technology, new ad formats and programmatic buying options. That's good news for game developers looking to monetize users and increase their lifetime value.
As always, brands want innovative ad formats to replace those that are becoming passé. They also need greater assurance about exactly where their ads will be seen and whether the audience has been targeted accurately and well.
At the same time, game developers need to protect their user experience and avoid displeasing loyal players. What's the smartest way to meet all of these wants and needs? Sponsored gameplay integrations.
What makes sponsored gameplay integrations such a smart idea?
First off, in a monetization landscape where everybody's going native, there's nothing more native than a customized and fully integrated gameplay experience. For app developers, these sponsorships offer monetization with the least disruption to gameplay and user experience. In fact, having the right brand partner can actually add to the excitement of the game. Plus, sponsored gameplay integrations can attract big-name brands to your app—not just other games that might cannibalize your audience. For advertisers, these integrations let their brands become part of the gaming experience in a relevant way that can drive engagement beyond the capabilities of a static or video ad.
Second, sponsored gameplay integrations give brands assurance about exactly where their campaigns are running. They can even pick and choose a sponsorship partner with a user base that matches their target audience (and isn't made up of bots). Better yet, that goes both ways: game devs can choose to partner only with brands whose messages and audiences match up with their players and add value to the overall gaming experience.
And let's not forget about the users. Done well, a sponsored gameplay integration can offer users in-game value similar to rewarded video (offering in-game rewards like extra points, lives, etc.) or something even more precious—an exciting new way to play the game.
Discover how to integrate sponsored gameplay into your app, and download an exclusive case study to learn more.
1) Look for relevant ways to integrate a brand into the core loop experience of your game.
This can work for any type of game. Let's look at the top five mobile game categories in terms of average revenue per daily active user (ARPDAU) metrics, as measured by Survey Monkey Intelligence:
Role-playing. Let's say we're looking at a sandbox role-playing game (RPG). The core loop is tied to exploration, gathering materials and going on quests. A brand could sponsor a themed area of the world (e.g., an amusement park) for users to explore or sponsor uniquely relevant materials to support a quest (e.g., a sports drink sponsoring a branded flask that gives the player extra lives when consumed).
Strategy. In a turn-based strategy game, for example, brands could sponsor unique scenarios for users to play or provide strategic intel that's branded and relevant to the user (such as a travel media company sponsoring detailed maps for a specific area).
Adventure. These types of games nearly all involve some level of problem-solving puzzles, which offer a perfect opportunity for sponsored branding, as do specific quests or objectives.
Casino. Brands could sponsor specific games or areas on the casino floor, such as a whiskey company sponsoring the high-roller tables. If there's an element of roleplay, apparel brands could sponsor specific articles of clothing, like a tuxedo or jewelry.
Racing. For example, in a motorcycle racing game, the core loop might be competing against other players to collect bike parts in order to have the fastest bike in the game. This scenario actually offers multiple sponsorship opportunities that make sense for both brands and players: a brand could sponsor a specific piece of equipment (like boots or handlebars that would help the user race faster) or sponsor a custom track level for a limited time to allow users to earn branded in-app rewards (or even real-world rewards).
By working within the core loop experience, the brand sponsorship integration will feel more natural to the user—and, as a result, the user will be more likely to feel positive about the brand's presence.
2) Build support marketing to promote the branded integration.
It's all about the hype. In-app alerts and push notifications can help drive awareness and excitement among users, while more general social media can help boost the campaign's profile and bring more users in to experience the sponsored gameplay. Rewarded video promotion will drive those all-important CPMs. Create enough buzz with a unique integration and strong support, and you might even grab the brass ring—a featured spot on the App Store and / or Google Play.
3) Work with a full-lifecycle partner who understands both brands and game developers.
Most platforms today are focused on mass-scale products like rewarded video. Only a few offer sponsored gameplay integrations, and not all work with both brands and game developers across the entire mobile app lifecycle.
Here are the phases of that lifecycle and why each one matters: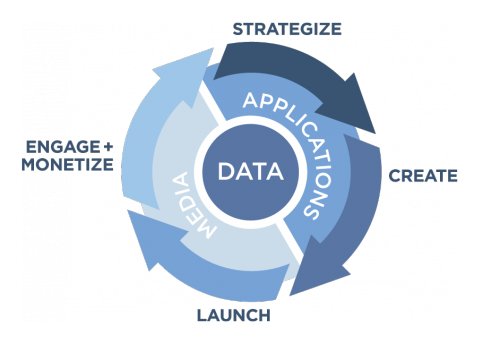 Strategize. You want a partner who knows how to think strategically about long-term objectives and how to build experiences that can help you reach them.
Create. Custom gameplay integrations require close collaboration. You need a partner who knows how app development and various modes of gameplay work, and has the creative and technical expertise to help you ensure amazing results.
Launch. Expertise in launching a new app means your partner knows what it takes to drive awareness and user acquisition. Both skillsets will be useful in creating buzz and bringing new players to your game.
Engage & Monetize. Driving user engagement and monetization is about mobile marketing. A partner who understands this can help support you in developing in-app alerts and push notification campaigns to keep users coming back to the sponsored gameplay (and help drive up your CPMs). Plus, and perhaps most importantly, a partner with deep monetization experience will also have extensive brand relationships. Unless your app is trending in the app stores or it's featured in a media publication like Adweek, brands may never know it exists. You need a monetization partner who can help match your app with brands whose audiences and messages align with your user base. That's a win-win for everybody. Once the campaign is complete, a full-lifecycle partner can also be a one-stop shop for other mobile initiatives, such as user retention and analytics. You can build on the relationship and synergy developed in the initial project without having to start from scratch.
Finally, don't overlook the importance of customer support. Some platforms only offer a dedicated account manager to devs with a certain number of users across their portfolio. But a custom gameplay integration is a complex project with many moving parts. You deserve dedicated support with a single point of contact to keep things flowing smoothly.
Download our eBook to learn more about using the power of the mobile application lifecycle to meet your business goals.
Interested? Consider Phunware's Phusion™ solution.
Here at Phunware, most of us are crazy about gaming, and many of us have roots in the gaming industry. We work with major brands, media and entertainment companies and game publishers alike, across the entire mobile application lifecycle.
Drawing upon our experience and core competencies in app development as well as monetization, Phunware developed Phusion™ to provide a solution for native gameplay integrations, including a complete suite of supporting marketing efforts. For example, our Phusion integration with Trials Frontier and SBK15 in support of Mission: Impossible – Rogue Nation delivered big-time for both publishers. Results included:
12.6 million combined gameplay engagements
CPMs 100-500% higher than industry average
16.7 million push notifications delivered
6.65% click-through rate (CTR) across entire campaign
Featured in the Apple App Store
Want to learn more about it? Download our case study for Mission: Impossible.