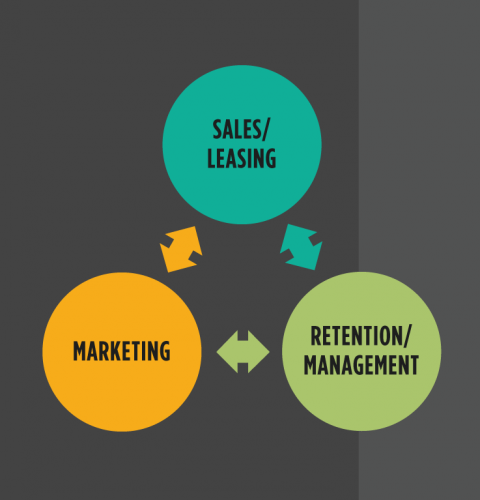 Location. Amenities. Views. Floor plans. All of these factor into the leasing or buying decision for prospective residents. Some of these you can control. A lot of them, you can't. But there's one compelling competitive differentiator that today's properties can deploy quickly and cost-effectively—and it makes a difference from marketing to sales and leasing and all the way through retention and management.
Property Management Apps Maximize Your Marketing
Today's consumers depend on their mobile devices to manage their lifestyle—and they have very high expectations for a unique and convenient resident experience. A branded mobile app can help your properties appear new, modern and luxurious. You're providing residents with a sophisticated technology solution that reinforces the exclusivity of your property. Not every property has what you have—and prospects and residents know it.
Additionally, an app can help reinforce your brand. That's because you can match the look and feel of your app to your property's branding. Through logo placement, theme design and carefully selected images, every interaction with your app can communicate your property's brand value.
Learn more in this case study: Jade Ocean Customer Snapshot
How Mobile Can Supercharge Sales and Leasing
Stop burdening potential residents (and leasing staff) with outdated brochures and flyers. Instead, give them an immersive and interactive experience that is always up-to-date. With a property management app, your sales and leasing team can give compelling presentations, display images and videos, show live camera feeds from anywhere on the property, guide prospects through an interactive virtual unit and much more.
Mobile Enhances Resident Retention and Property Management
A well-designed app makes engagement with residents dynamic and efficient without sacrificing the personal touch. Your staff can use the app's two-way communication tools—text messages, emails and push notifications—to make instant connections. Messages can be sent on demand or scheduled for automated delivery.
Your staff can even target messages to various subgroups using resident profiles. For instance, if your property is having a problem with dog owners cleaning up after Fido, your staff can send personalized messages just to those residents. They never have to overload busy residents with communications that are unimportant or irrelevant to them.
Learn more in this eBook: A Day in the Life with App-Enabled Luxury
GET THE ON-DEMAND WEBINAR
Best of all, you can realize all of these benefits without changing any of your existing work processes. When integrated with your existing property management software, the app platform empowers staff to do their jobs better. It also gives you a better view of your property's operations by providing powerful analytics, so you can make smarter marketing, sales and management decisions.
The bottom line is, if you don't up your game across the entire leasing and sales lifecycle, your competition will. A property management app can be the tipping point that puts your property into a prospect's consideration set, helps close the sale (or lease) and keeps your residents around for the long haul.
Ready to learn more? Browse these quick videos of Phunware's resident solutions in action to see what difference an app can make.